Babysitting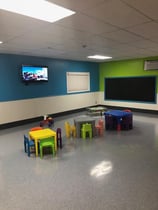 Bring your child while you play tennis or use the fitness center!
*Children must be at least 10 months old.
Babysitting is included in your fitness membership.
Tennis members may add babysitting to their membership for $15/month or pay $2 for the first child, and $1 for each additional child.
Babysitting Hours:
Effective September 4th

Monday - Friday: TBD
Saturday: TBD
Monday - Thursday: TBD